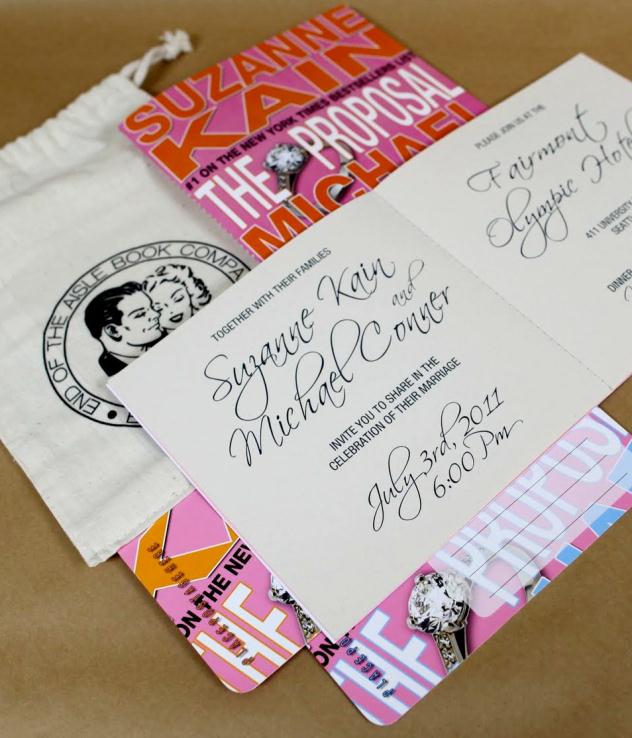 WEDDDING INVITATIONS | CUSTOM WEDDING INVITATIONS | UNIQUE WEDDING INVITIATONS | COUTURE WEDDING INVITATIONS | HANDMADE WEDDING INVITIATIONS VINTAGE WEDDING INVITATIONS

MILITARY  WEDDING  INVITATIONS  |  BEACH WEDDING INVITATIONS | DESTINATION WEDDING INVITATIONS HAWAII WEDDING INVITATIONS | WEDDING STATIONARY | SAVE THE DATES | WEDDING PROGRAMS  CEREMONY PROGRAMS | WEDDING FAVORS  |  BIRTH ANNOUNCEMENTS   |   CUSTOM  BIRTH  ANNOUNCEMENTS    |   BABY  SHOWER  INVITATIONS   |   BRIDAL  SHOWER  INVITATIONS

BACHELOR  PARTY  INVITATIONS  |  BACHELORETTY PARTY INVITATIONS  |  REHEARSAL DINNER INVITATIONS



N O V E L

Announce the next chapter of your life with our adorable, novel-inspired invitations.  This design includes a customized dust jacket and interior cover, with announcement page, venue and reception page, directions page, detachable RSVP card, and mailing card, and stitch bound.  Ready to mail in the included canvas mailing "book bag" with screen printed book store logo.

Perfect for couples who insist on having their own library cards, love the way old books smell, and know that theirs is the greatest love story ever told.

D I M E N S I O N S

Invitation: 7" x 7" Mailing Bag 8" x 13"

P R I C I N G

25-200 $15